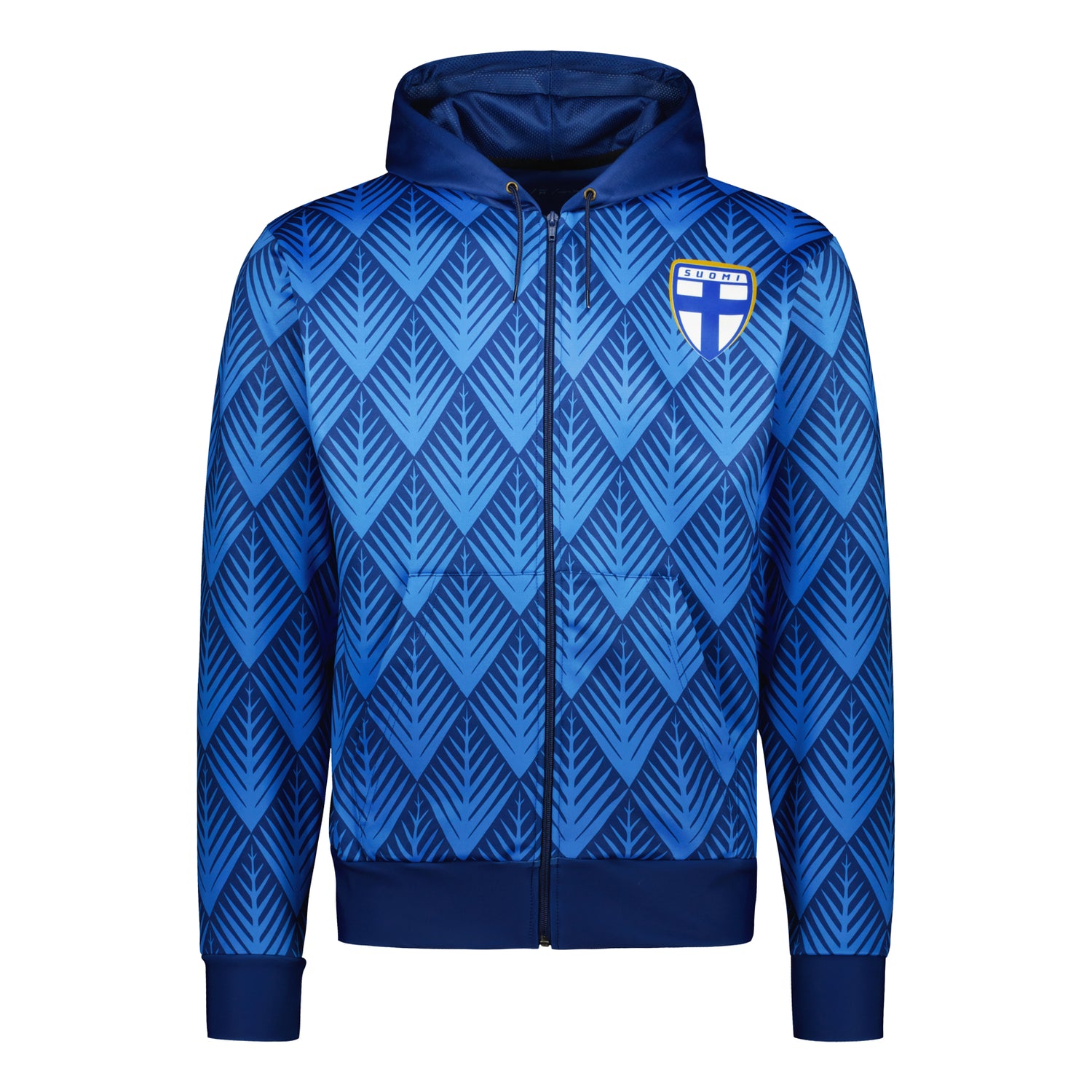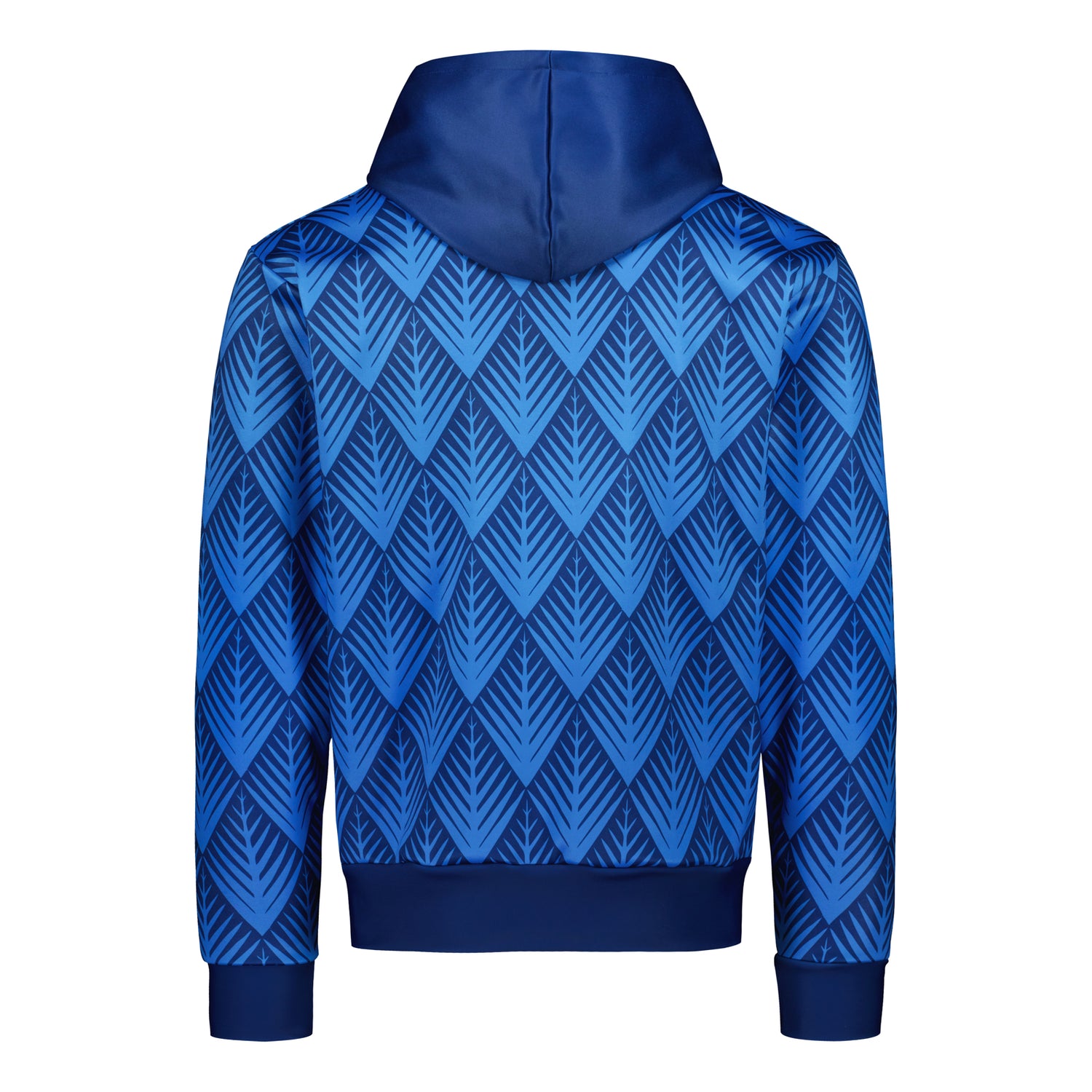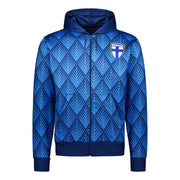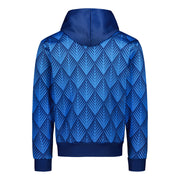 National Team Hoodie with Zipper, Away, Kids
Sale price
$67.00
Regular price
Unit price
per
The warm and comfortable hoodie adapts the design of the Huuhkajat and Helmarit away game jersey.
See also the home version of the hoodie
Material:
100% Polyester
Weight: 320g
Sizes: 122-158cm
Unisex model.
 KOKO

(cm)

RINTA

(A)

VYÖTÄRÖ

(B)

LANTIO

(C)

PITUUS

(D)

HIHA

(E)

128 
82 cm
82 cm
74 cm
49 cm
48 cm
140
89 cm
89 cm
80 cm
53 cm
52 cm
152
95 cm
95 cm
85 cm
57 cm
57,5 cm
A = rinnanympärys mitataan kainaloiden alta rinnan leveimmästä kohdasta.
B = vyötärönympärys mitataan vyötärön kapeimmasta kohdasta.
C = lantionympärys mitataan lantion leveimmästä kohdasta.
D = selän pituus mitataan niskasta (7. niskanikama on suurin ja selvin nikama, jonka tuntee kokeilemalla) lantion alareunaan.
E = hihan pituus mitataan olkapään leveimmästä kohdasta ranneluuhun.
Mittausohje: 
Kun valitset itsellesi tuotetta, ota huomioon seuraavat asiat:
1) Mittaa itsesi ihonmyötäisesti, esimerkiksi ohuen paidan tai alusvaatteiden päältä.
2) Jätä mitattaessa sormi mittanauhan ja ihon väliin sopivan väljyyden varmistamiseksi.
3) Mittanauha ei saa kiristää mitattaessa.
Hyvältä tuntuu ja näyttää..aattona sitten lopullisesti tietää
Maajoukuehuppari pojalle
Poika ikionnellinen. Äitikin tyytyväinen laatuun. Ja tykkää kuvien kohdistuksista, kuinka tarkasti kohdistettu.
Nopeasta toimituksesta iso plussa.
Upea takki
Materiaali oli liukasta, verkkatakkimaista kangasta ja sisäpinta pehmeää. Oikein hyvän tuntuinen päällä ja kaikin puolin upea takki. Saaja oli todella tyytyväinen.
Huppariarvostelu
Olivat odotusten mukaisia! Hienoa.
Maajoukkuehuppari
Laadukas vaikutelma: istuva leikkaus, ei ylimääräistä löysää. Huppu pienen puoleinen. Sopiva kampe arvaamattomille alkukesän keleille.