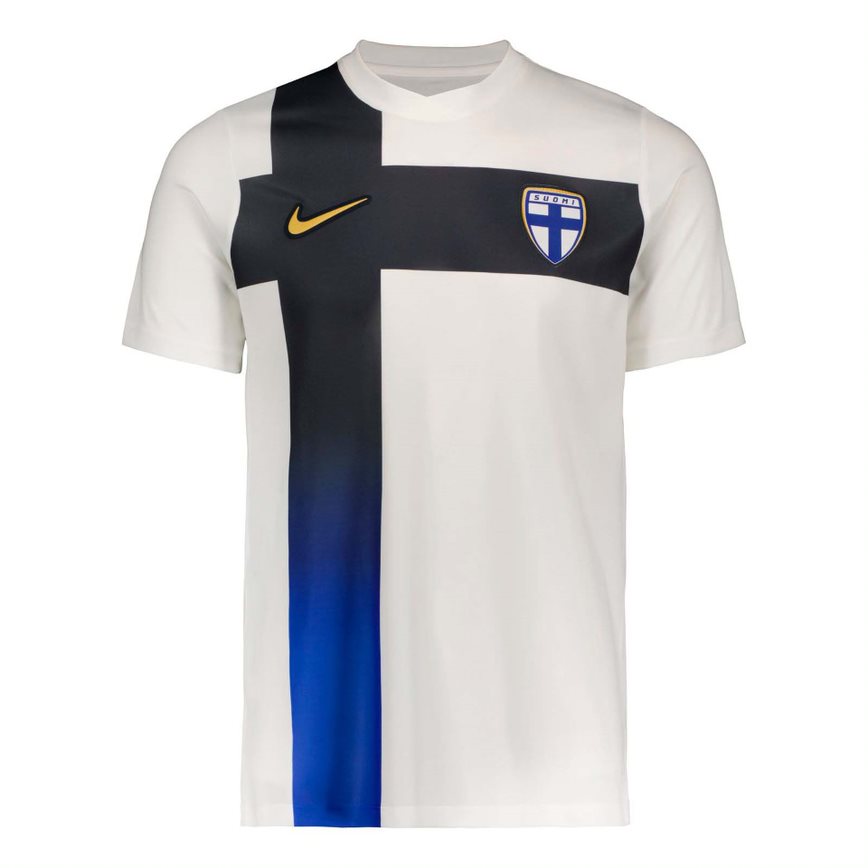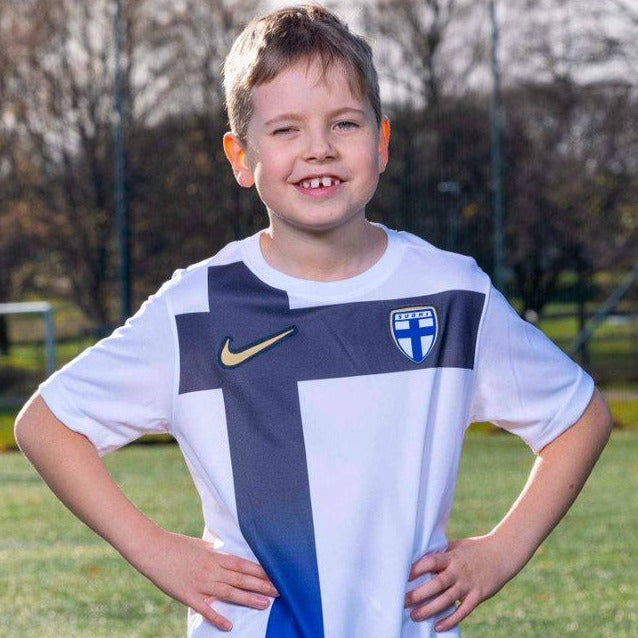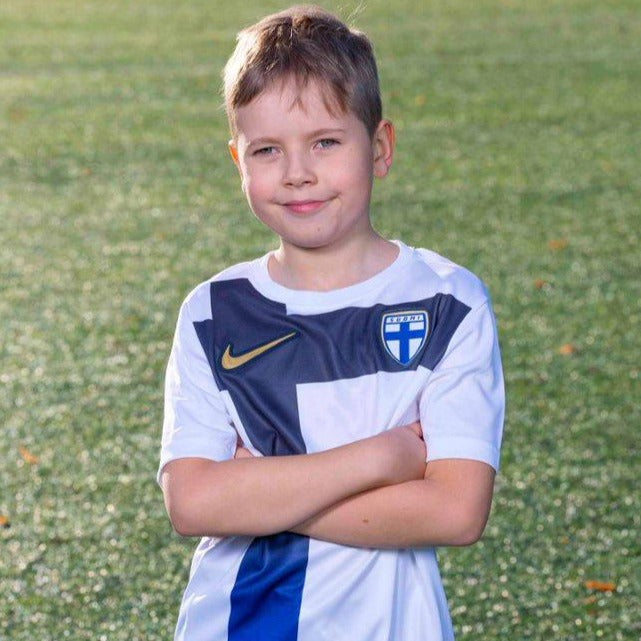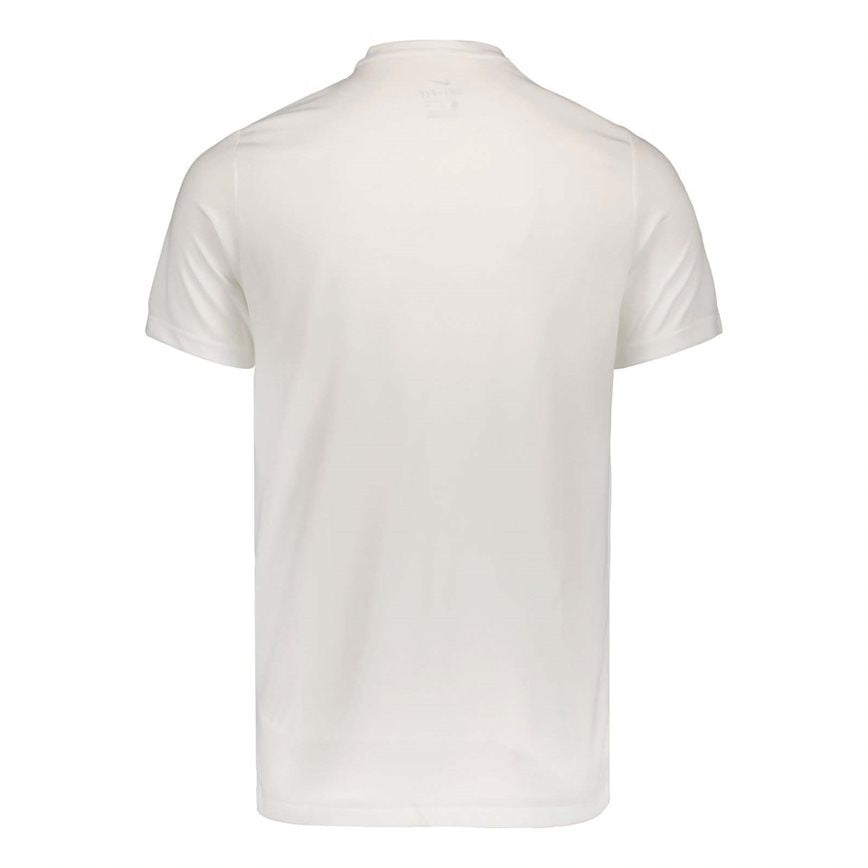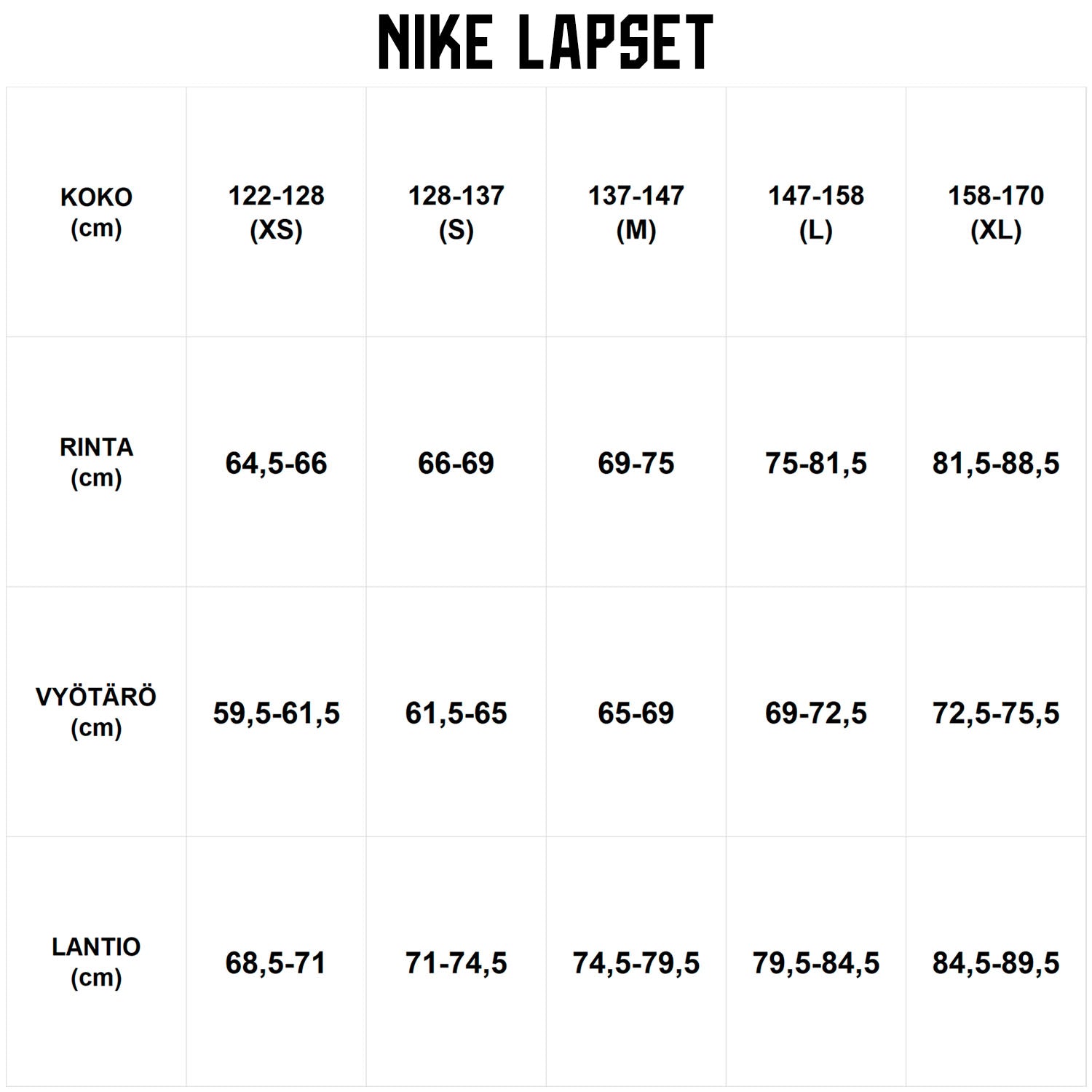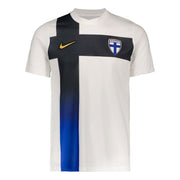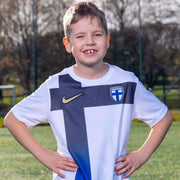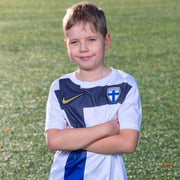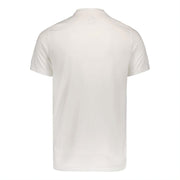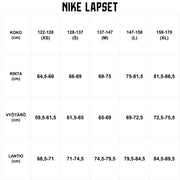 Finland Replica Home Jersey, Kids
Sale price
$60.00
Regular price
Unit price
per
NOTE! The prints on the jerseys are made to order. The normal delivery time for printed shirts is 7-14 days.

Nike's high-quality Replica version of the Huuhkajat and Helmarit highly popular and sold out official home game jersey in several sizes is here! This shirt is for the whole Finland. For women and men - past and future generations!

The design of the new and bold home jersey is based on the Finnish flag. Our symbolic cross runs lengthwise and crosswise on a white background in different shades of blue. The shirt is decorated with a gold-edged SUOMI logo and a golden Nike swoosh.

#MeOlemmeSuomi | #ViÄrFinland | #MiiLeatSuopma | #WeAreFinland
Dri-FIT technology keeps you cool and dry, and the shirt feels comfortable in all conditions.
The same design that the players use. In addition, the same printing as an option.
Standard Fit
100% Polyester
JR sizes: 122-128cm - 158-170cm.


KOKO

(cm)

Rinta

(A)

Vyötärö

(B)

Lantio

(C)

Pituus

(D)

Hiha

(E)

 122-128

(XS)

72 cm
72 cm
72 cm
50 cm
16 cm

 128-137

(S)

78 cm
78 cm
78 cm
54 cm
18 cm

 137-147

(M)

85 cm
85 cm
85 cm
55 cm
18 cm

 147-158

(L)

90 cm
90 cm
90 cm
60 cm
21 cm

 158-170

(XL)

98 cm
98 cm
98 cm
61 cm
21 cm
A = rinnanympärys mitataan kainaloiden alta rinnan leveimmästä kohdasta.
B = vyötärönympärys mitataan vyötärön kapeimmasta kohdasta.
C = lantionympärys mitataan lantion leveimmästä kohdasta.
D = selän pituus mitataan niskasta (7. niskanikama on suurin ja selvin nikama, jonka tuntee kokeilemalla) lantion alareunaan.
E = hihan pituus mitataan olkapään leveimmästä leveimmästä kohdasta ranneluuhun.  
Mittausohje: 
Kun valitset itsellesi tuotetta, ota huomioon seuraavat asiat:
1) Mittaa itsesi ihonmyötäisesti, esimerkiksi ohuen paidan tai alusvaatteiden päältä.
2) Jätä mitattaessa sormi mittanauhan ja ihon väliin sopivan väljyyden varmistamiseksi.
3) Mittanauha ei saa kiristää mitattaessa.
Suomi Replica Kotipelipaita, Lapset
Hieno pelipaita
Kauniin värinen pelipaita, todella nopea toimitus ulkomaille!
Hieno replika kotipeli paita
Tilasin 12 vuotiaalle pojalleni Suomen jalkapallojoukkueen replika kotipelipaidan. Asumme Englannissa joten oli tarkea saada tama paita. Tilaus tuli todella nopeasti ja se on todella hyvalaatuinen paita (Nike) ja tama design on tyylikas. Monty numerolla 10 on todella tyytyvainen asiakas!